I'm now actually wasting my time in Old Town White Coffee Perak Road as I brought my car to go for a wash, polish n wax.. So I got 3 hours to waste..

Would like to write about wat is happening in my life lately.. I have done nothing special in life except training to be domesticated, got very comfortable in my current life that I have no directions nor ambitions.. It's like my only ambition is to get married n have baby..

My old Dell laptop recently died on me.. Like I think 2 weeks plus ago.. The screen just died n thats it... This Dell laptop has served me well for the past 4 years plus.. And in these 4 years, I think I have only reformatted it twice n its bcos of virus.. Other than that, it has been good, tough n lasting.. My bf say that I'm a laptop torturer, never give any rest to my laptop n this Dell could last 4 years plus so it's really good..

Now, I have bought a new laptop. I wanted to buy the new Dell inspiron 15R (Red Color!) with Core i7, 640gb hdd space, 1gb video card n 6gb ram.. But I went to Queensbay mall the other day n some guy from a shop intro me Asus N 53S, 15.6 inch screen with Core i7, 640gb hdd, 2gb video card, 8gb ram and can even play blu ray disk.. It's not like I really need them but heck, it's a plus point to have it.. I just got it for a week n it already keeps hanging on me! It seriously pisses me off.. And then when it goes to hibernate mode, I cannot seem to make it wake from the hibernate mode.. Not sure it just hanged or war but u have disabled hibernate mode.. This Asus laptop looks sleek and tough.. But too bad it's not red! Pictures below :)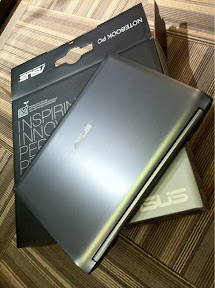 Aluminum outer cover...
With Bang & Olufsen speakers! Freaking nice!
Let's see how long can this Asus laptop last me this time.. :)
Don't mind me if u don't know what I'm talking about here.. I'm actually really sleepy n tired, that's y I'm blogging to keep myself awake..
I have been having loads of plans of when to get married n etc.. I actually wanted a dragon baby.. Cause since my MIL (mother in law) and my mum are both dragon people, I think it's cool n it's a great big blessing if I have dragon baby as well.. N besides, I'm no good with snake people, so I can't have snake baby.. And I can't wait till horse year man.. It's still so freaking far..
So my planning was actually to get registered end of this year and then get married by March 2012 and of course a baby popping out before the year of snake.. My mum is ok with me getting married n all first but my mil wanted her daughter who is a younger sister to my bf to get married first and she plans on marrying Nov 2012..
So I guess we will see how and etc.. But the in laws are doing like an engagement party for both my bf n bf's sister on November this year.. Its gonna be a big family affair.. It's like my parents meeting his parents n relatives n inclusive of sis in law's future husband n his parents too! There will be like 35 people attending! :)
I know, it's a boring topic and the way I'm blogging now sounds so freaking dull n boring.. But wat to do, I'm seriously sleepy now that my eyes are literally like this... -_-
There are actually many times I got inspiration to blog about some topics but that some topics might be deem sensitive to some people, therefore I had decided not to write about it.. Some topics inclusive of being a woman married into another family.. Especially when both families are very different from one another.. One other topic is that about cheating man.. Lately, I have been having this phrase in my head which keeps repeating n repeating.. N I kinda agree to it.. That all men WILL cheat if there are no consequences.. I mean if I'm a man, I would.. I read about this from
Xiaxue about trust issues
regarding your the other half and I totally agree with her... I sometimes don't get it why some other girls can put full 100% trust on their the other half.. My current bf never cheats on me or do anything close to that n he don't even talk to other casual girls' friend without me knowing.. N this is bcos he respects me n know how I would feel if he were to do things behind my back.. Me and my bf, our relationship has finally come into an understanding that we won't do anything which we know our the other half won't like it.. But having said that, it doesn't mean that I have to 100% fully trust my bf.. I need to be mentally prepared what if one day he decided to let me down? When it comes to trusting men, I find it hard to do so as this is because I have a 'bad childhood' (according to my bf), that's y he got to withstand my nonsense.. Cause from time to time, I will think of many nonsense to get assurance from my the other half so that I know he still loves me alot n are not cheating on me.. :) but he entertains me with all my nonsense cause he understood that this is wat I need to feel secured.. I'm not the type that u shower me with money then I will feel secure already.. I need actions n assurance.. :) This is why I love my current bf and I'm very sure that he is the husband for me.. But from time to time, I will have my mental break down n start accusing him of not loving me anymore.. N blame him for not being romantic enough then he will have to do nonsense to assure me again.. He has been patient with me so far.. :) but I wonder, how much more patience will he have on me huh..
Anyways, gotta go.. Gonna enjoy a bowl of noodles in old town and then back to get my car.. Till then, see ya.. :D
- Posted using BlogPress from my iPhone